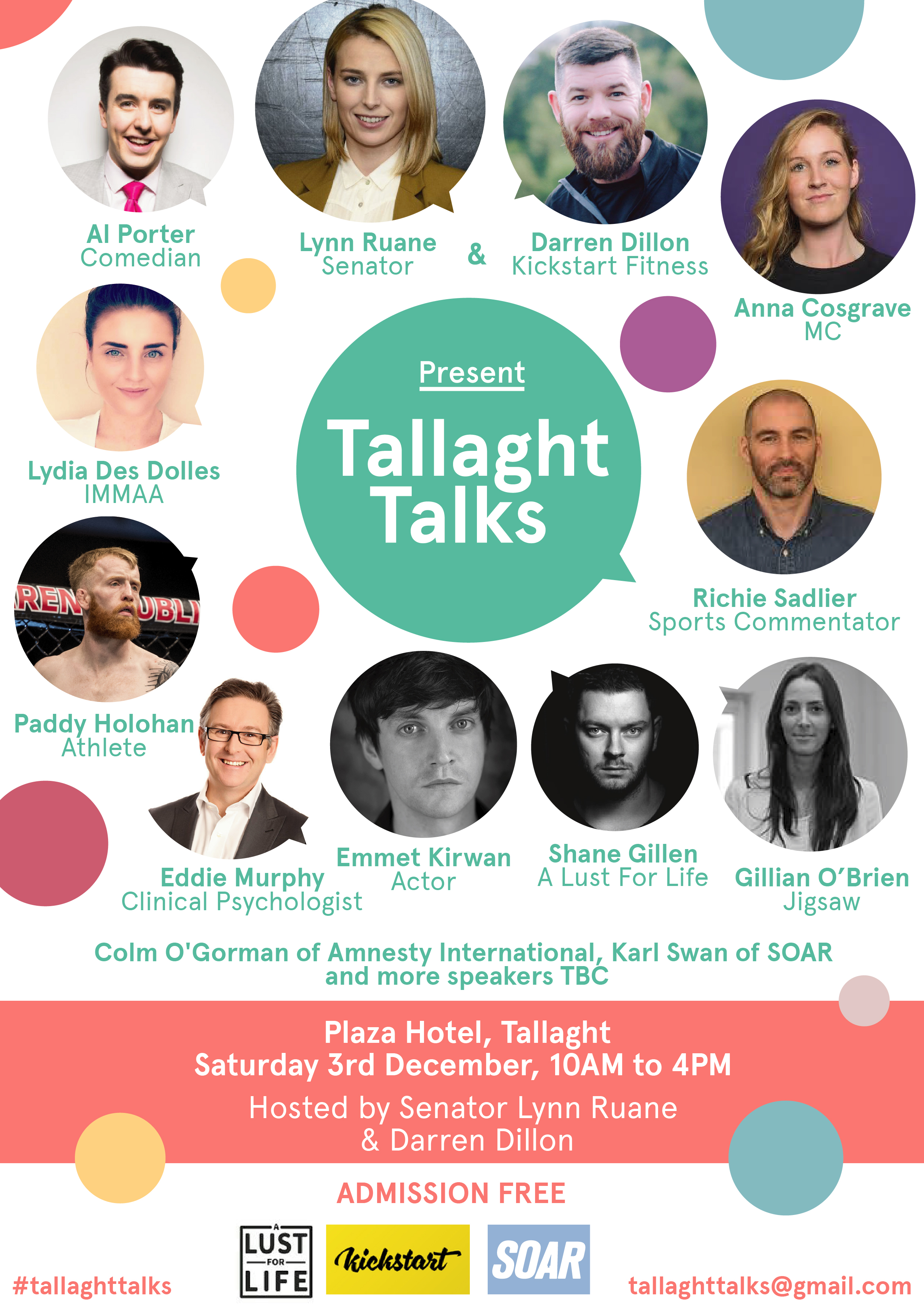 Nov
08
2016
'Tallaght Talks' – Senator Lynn Ruane To Host Community Mental Health Forum
Date – Saturday, December 3rd 2016

Time – 10:00-16:00

Location – The Plaza Hotel, Tallaght, Dublin 24

'Tallaght Talks', a mental health forum for the local community, will take place next month in the Plaza Hotel in Tallaght. The event, hosted by Tallaght natives Senator Lynn Ruane and Darren Dillon of Kickstart Fitness, is aimed at starting a dialogue on mental health, general wellbeing and the issue of suicide in the wider community. Representatives from local mental health organisations will also be in attendance to provide information on the services that they offer to local Tallaght residents.

Speaking about the event, Senator Lynn Ruane said, "As a politician and a university student, I've attended many incredible events on mental health; events that encourage open dialogue, the seeking out of professional help and a generally positive attitude towards mental health. However, it's a simple fact that many communities are excluded from these conversations and that these communities are often those that need it the most."

"Following a number of tragic suicides in the Tallaght area, I felt an event that promotes a strong and active approach to mental care and that showcases the huge number of local resources available to residents could help to start a wider conversation on the issue of mental health in working class communities. I want positive mental health to be at the heart of all of our communities, beginning with Tallaght. We want to talk too," said Senator Ruane.

The event will consist of speeches, panel discussions and question and answer sessions between 10am and 4pm with a break for lunch. These sessions will involve medical professionals such as Dr. Eddie Murphy & Gillian O'Brien of Jigsaw, community voices such as mixed martial artist Paddy Holahan & former professional footballer Richie Sadler and civil society figures such as Colm O'Gorman of Amnesty International and Lydia Des Dolles of the IMMAA. Poet Emmet Kirwan and comedian Al Porter will also be participating.

Mixed martial artist Paddy Holahan commented, "It will be a pleasure to share my own journey that started in Tallaght with some people still on their own journey."

Local mental health services will also be in attendance to profile the services they offer free of charge to members of the local Tallaght community. These include Jigsaw, Lust for Life, the SOAR Foundation and Pieta House and a number of others. Tickets are free and can be reserved by emailing tallaghttalks@gmail.com.