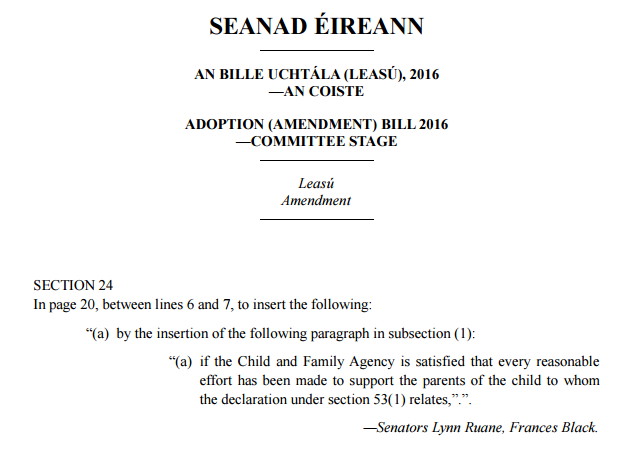 Jul
14
2017
Birth Parents to Be Supported in New Adoption Procedures
The Adoption (Amendment) Bill 2016 has passed its final stages in Dáil Éireann and will now go to President Higgins for his signature. The bill includes a new and crucial adoption policy change as a result of an amendment tabled by Independent Senator Lynn Ruane.

Senator Ruane's successful amendment to the bill at committee stage in Seanad Éireann will now create an obligation on the Child and Family Agency to offer supports to birth parents following their child being taken into foster care with the hope of increasing the chances of a positive family reunification where appropriate in cases where there is a prospect that their child will be adopted without their consent.

Independent Senator Lynn Ruane said:

"I tabled this amendment because the State needs to take responsibility for supporting birth parents when their child is taken into foster care. We have a public responsibility to address the issues that result in children being taken into care, especially in the context of the successive cuts that were made to family support services during years of austerity."

"Throughout my time working in the areas of homelessness and addiction, I have supported many parents who have struggled to overcome personal challenges when their child is taken into foster care. They often never get the chance to address those challenges because the supports they need are never offered. As a result of my amendment, this will no longer be the case as the Child and Family Agency will have to be satisfied reasonable efforts were made to support birth parents before an adoption can proceed without their consent."

"I know that this amendment will have a measurable positive impact on the parents and children that it will affect when the act is commenced. I'd like to thank Fianna Fáil, Sinn Féin, the Labour Party, the Green Party and independent senators for their support in the Seanad and to Minister Katherine Zappone for her constructive engagement with me."

Senator Ruane was also delighted to see an amendment she seconded tabled by Senator Alice-Mary Higgins be accepted by Minister Zappone. The amendment commits to an investigation and review of the introduction of open or semi-open adoption in Ireland i.e. a system where contact between adopted people and birth parents would be permitted following an adoption.