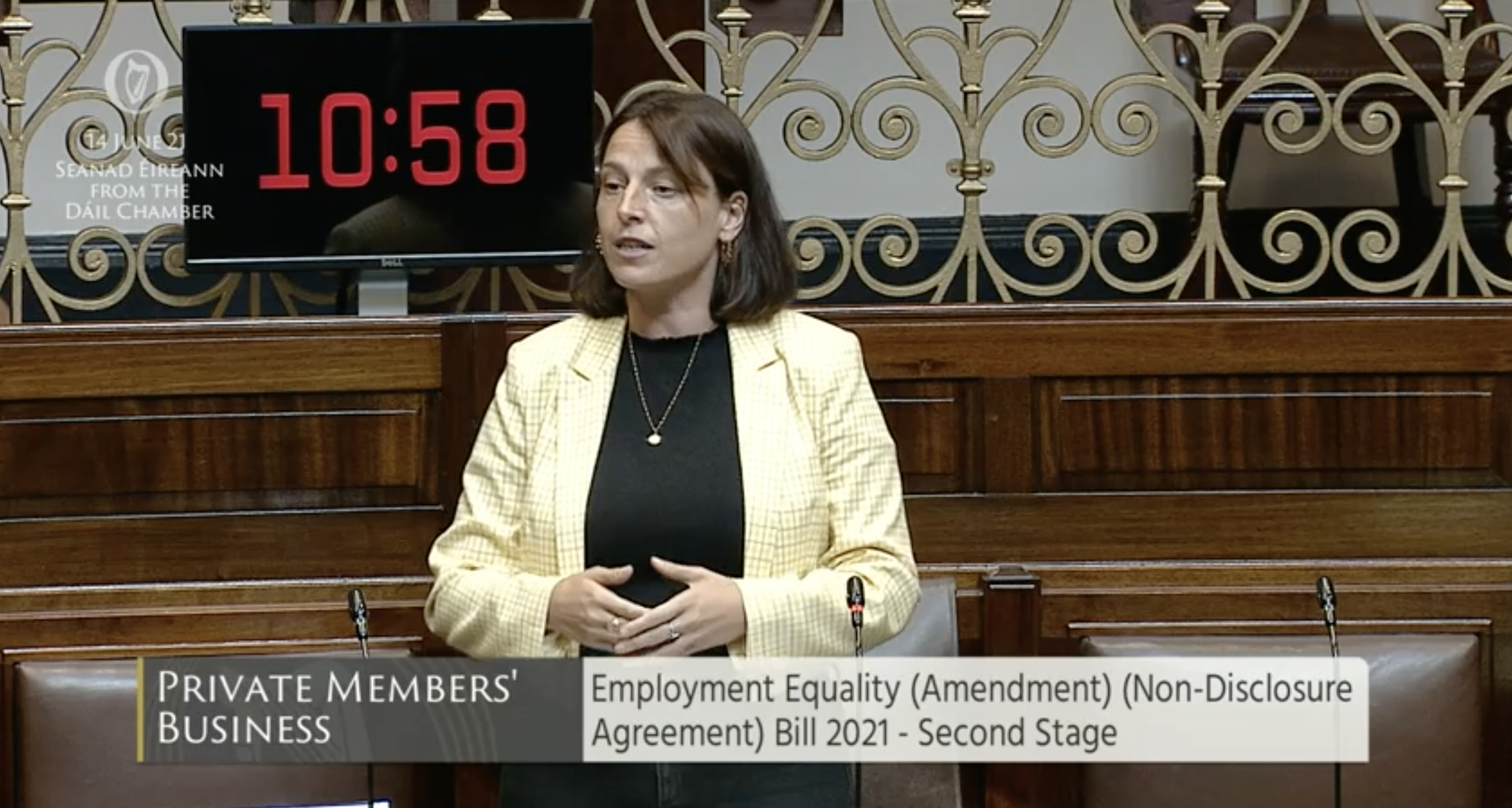 Jun
14
2021
Seanad Unanimously Supports Breaking Silence On Workplace Harassment
Senator Lynn Ruane has welcomed the unanimous support of Seanad Éireann for the landmark Employment Equality (Amendment) (Non-Disclosure Agreements) Bill 2021, which passed to the next stage of the legislative process this evening.
The proposed bill would ban legal gagging orders that prevent victims of sexual harassment and discrimination in the workplace from speaking out about their experiences. Employers could only sign such agreements with employees at the victim's request to protect their privacy.
Speaking after the debate in the Seanad this evening, Senator Ruane said:
"Employers should not have the option to legally enforce silence on a victim of sexual harassment or discrimination; these agreements cover up crimes under Irish law and must be banned. Everyone deserves to be treated with respect in the workplace and where they are not – we need to ensure victims are empowered to use their voices to seek accountability."
"Non-disclosure agreements that cover up unacceptable and illegal behaviour pervert the course of justice. As Ireland continues to grapple with a shameful history of silence and institutional abuse, I'm grateful to my colleagues for forcefully rejecting the further legal silencing of victims and the marginalised," concluded Senator Ruane.
Replying to the bill in the Seanad this evening, Minister for Children and Equality Roderic O'Gorman said:
"I welcome the proposals being brought by Senator Ruane today. Sexual harassment and discrimination have no place in any workplace. No one should ever be put under pressure to conceal harassment or discrimination to protect an individual, or an institution or a company reputation. The Government has agreed to conduct more detailed research on the extent of the practice in Ireland and will work with Senator Ruane to advance these proposals further."
The bill has advanced through the second legislative stage debate on its general principles and will now be scrutinised line-by-line by Senators in advance of the committee stage. It is available to view on the Oireachtas website here.